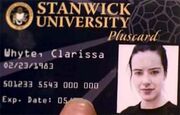 Stanwick University was an institution of higher learning attended by Jaime Sommers in a Berkut undercover operation.
While at the university, Jaime was registered under the name Clarissa Whyte. She pretended to be a transfer student from Oxford University in England in order to do reconaissance on the university's premiere neuroscience research school.
The school used the research of Professor Howard Samuels to produce prototypical neural implants designed to help patients with Parkinson's disease and other maladies. These implants attracted the attention of Berkut because they were being used against their purpose to force US soldiers in Iraq to act against their will.
Also at the school was a CIA operative, working under the name of Tom Gilchrist, who was masquerading as Samuels' graduate assistant. Jaime began a romantic relationship with him both before and after discovering his true identity.
While undercover, Jaime "traded" homework with her roommate. She wrote a paper on James Joyce's short story, "The Dead", which impressed her roommate's professor enough to offer her roommate a place in a graduate program in literature. ("The Education of Jaime Sommers")