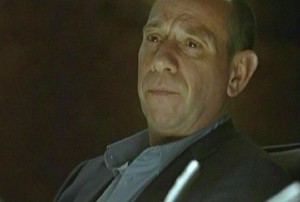 | | | |
| --- | --- | --- |
| | I know why you're here. Saved that woman's life and now you're thinking, 'Jonas is right. I could have a larger purpose in my life.' So, go ahead. Feel free. Tell me. Say the words: Jonas was right. | |
- Jonas, welcoming Jaime to employment with The Berkut Group. ("Paradise Lost")
Jonas Bledsoe is the co-founder and CEO of The Berkut Group.
Commonality with original Bionic series
Edit
Although Jonas Bledsoe would appear to be an updated version of Oscar Goldman, in fact his temperament betrays him as a throwback to Oliver Spencer, Goldman's gruff and mysterious predecessor in the original pilot for The Six Million Dollar Man. As the series progressed, however, Bledsoe began displaying Oscar Goldman-like character traits, particularly in regards to becoming a father figure to both Jaime and her sister, and there was also a lessening of his cold-hearted demeanor as established in the pilot episode.
NBC promotional biography
Edit
Some elements of the following biography may not have support from episodes as broadcast. Its canonicity is therefore unclear.
Jonas Bledsoe was born in Chicago, Illinois to Isaiah and Denise Bledsoe. Isaiah was a prominent trader on the Chicago Board of Trade unitl his death in 1954 of a massive coronary. Denise Bledsoe remained unmarried, raising Jonas alone in Winnetka, Illinois. Jonas started school at Crow Island Elementary, going on to attend Washburn Middle School and New Trier High School, where he graduated in the top ten percent of his class. During high school, Bledsoe excelled at swimming, leading his team to the state championships. He was known for his sharp debating skills and during his final two years, he had a weekly morning radio program where he showcased the works of new jazz artists like Lonnie Smith, Les McCann and Bill Doggett.

After graduation, Bledsoe enrolled at West Point Military Academy. He graduated in 1975 and was stationed in Saudi Arabia. As the Lebanese Civil War escalated, Bledsoe was sent to Beirut as a military observer. Despite the official mandate, Bledsoe broke protocol in an ultimately doomed attempt to rescue civilians in the Tel al-Zaatar refugee camp massacre. While disciplinary action was taken, his actions caught the attention of General Garrigus. Bledsoe was reassigned to Garrigus' detail and quickly rose through the ranks. When Garrigus retired in 1987, Bledsoe held the rank of Major. Bledsoe was assigned to Okinawa where he observed China's growing military strength. His report, entitled

The New Nuclear Power

, was largely ignored until after the Berlin Wall fell in 1989.

Bledsoe returned to the United States in 1990, where he was stationed at Fort McNair in Washington, D.C. During the Gulf War, Bledsoe was responsible for tracking new initiatives in warfare and weaponry, including the use of RPV drones and Navstar GPS. It was during his research of these new weapons that Bledsoe encountered

Anthony Anthros

, a pre-eminent scientist in the field of biotech engineering.

By the end of the war, Bledsoe, now a Colonel, headed several research initiatives for the Chairman of the Joint Chiefs of Staff under the Clinton administration. It was in his role as an advisor to the JCOS that Colonel Bledsoe testified before the Senate Committee on technology and new types of warfare. His testimony outlined scenarios for World War Three. Congress and the Pentagon were unprepared for Bledsoe's doomsday scenario. He was forced into early retirement. In the wake of 9/11, Bledsoe's detractors decried his vision of the future and called him a technological Cassandra, noting that he failed to take into account box cutters.

Early in 2002, Jonas Bledsoe formed

the Berkut Group

with Anthony Anthros. The purpose of their group was to engage in the development of bio-military weapons outside governmental influence. The Berkut Group is a private company with unknown sources of funding.