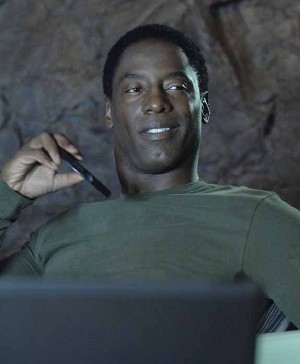 Isaiah Washington has a recurring role in five episodes of Bionic Woman as Antonio Pope. According to TV.com, Washington will play "a stranger who helps the bionic Jaime Sommers cope with her powers." [1]
Early life
Edit
Isaiah Washington was born on 3rd August, 1963, in Houston, Texas. Around 1980, the family relocated to Missouri City (Texas). He graduated from Willowridge High School, Houston, in 1981. He served the Air Force for four years. After his stint in the Air Force, he studied at Washington, DC's Howard University where he won a role in the play Spell #7. Thereafter, he moved to New York to further pursue his acting career. While in New York, he appeared in a number of stage productions, including August Wilson's Fences and Thornton Wilder's Skin of Our Teeth. He had a passion for theater, and became one of the founding members of City Kids Repertory, a theater group that visits and performs at high schools and community centers throughout New York. He married Jenisa Marie Washington on February 14, 1999. They have three children.[2][3]
Filmography
Edit
The Color of Love (1991)
Land Where My Fathers Died (1991)
Strictly Business (1991)
Forever Young (1992)
Alma's Rainbow (1994)
Crooklyn (1994)
Stonewall (1995)
Clockers (1995)
Dead Presidents (1995)
Girl 6 (1996)
Get on the Bus (1996)
Love Jones (1997)
Mixing Nia (1998)
Bulworth (1998)
Rituals (1998)
Out of Sight (1998)
True Crime (1999)
A Texas Funeral (1999)
Veil (2000)
Dancing in September (2000)
Romeo Must Die (2000)
Kin (2000)
Tara (2001)
Exit Wounds (2001)
Sacred Is the Flesh (2001)
Welcome to Collinwood (2002)
Ghost Ship (2002)
Hollywood Homicide (2003)
This Girl's Life (2003)
Blood on a Happy Face (2004)
Wild Things 2 (2004)
Dead Birds (2004)
Trois: The Escort (2004)
The Moguls (2005)
External links
Edit
References
Edit
↑ "Isaiah gets Bionic gig", TV.com, Tim Surette. July 17, 2007.